Creating a Legacy


The MU Planned Giving Newsletter: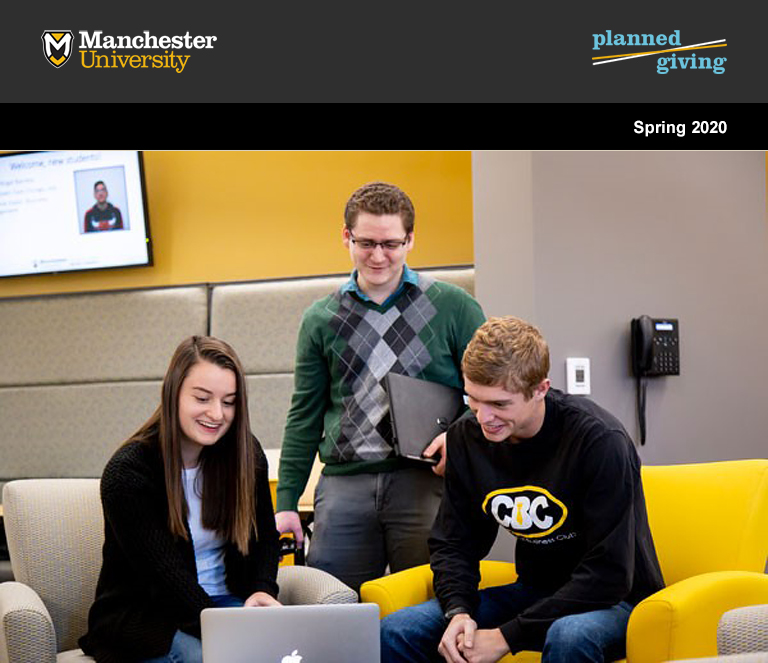 Manchester looks forward to the future when we can welcome students back to campus for in-person collaborations.
Stronger Together
Now more than ever, we thank you for your support. Because of you, we are here today and will be stronger tomorrow. We have a history of persistence and resilience and have overcome greater obstacles than this in our past. We are in this together.
Our faculty and staff have worked diligently to bring classes and academic resources online. We are offering virtual events like lectures and readings as well as counseling services and campus club meetings. Admissions is providing virtual tours and increasing our social media presence. Creativity abounds. All of these things have taken shape in a matter of weeks. Thank you for supporting Manchester as we make these possibilities a reality in these difficult times.
And in the words of President McFadden, "Stay strong and healthy, and thank you for all that you are doing to give the world more Manchester graduates."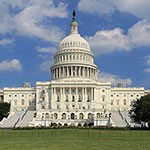 COVID-19 Stimulus Bill — CARES Act
What it Means for Philanthropy
On March 27, 2020, Congress and the President enacted the Coronavirus Aid, Relief, and Economic Security (CARES) Act.
Creates a temporary universal charitable deduction for non-itemizers, for cash only, capped at $300. It is a dollar-for-dollar reduction against gross income but excludes gifts into donor-advised funds.
Temporarily suspends current AGI limits for charitable deductions for cash gifts made by individuals and businesses.

Individuals: total charitable contributions can be deducted up to 100% of a donor's adjusted gross income (had been up to 60%).
This provision excludes gifts into donor-advised funds and 509(a)(3) supporting organizations.

The required minimum distribution (RMD) rules for Individual Retirement Accounts and 401(k)s are waived for 2020. That means that instead of taking money out this year, retirees can keep their investments growing. The RMD waiver also applies to 403(b) accounts, SEP IRAs, and SIMPLE IRAs.

The rules for who needed to take 2020 RMDs were already altered by the SECURE ACT, passed in late December, which changed the age triggering RMDs from 70 ½ to 72, effective Jan. 1, 2020.
Although the RMD date has been waived, the IRA charitable rollover benefit is still available for individuals age 70 ½ or older. You can contact your IRA administrator to transfer from your IRA up to $100,000 to one or more charities and it will not count toward your taxable income.
For more information about the CARES Act, visit our website here.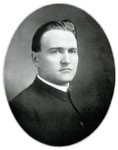 Recognition You Deserve for the Legacy You Leave
The Otho Winger Society was created to celebrate one of Manchester University's great leaders and to recognize donors who have included Manchester in their estate plan or have established a deferred gift with Manchester University.
Read more about the Otho Winger Society here.
We would like to show our gratitude to the following people who became members of the Otho Winger Society in 2019.
Carol Shank Colclasure
Dr. Jeffrey Easley
Mr. and Mrs. Michael W. Robertson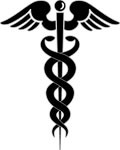 How Medicare is Handling Coronavirus
Is Medicare covering testing for the coronavirus? My husband and I are very nervous about this virus and would like to find out if or when we should get tested and how Medicare manages it.
Medicare is covering the cost of testing for the coronavirus, known as COVID-19. Be aware that getting a test is not as simple as going to your local pharmacy or doctor's office and requesting one. Here is a breakdown of what Medicare is covering, along with how to get tested if you think you may have symptoms. Read more here.
Manchester University Office of Advancement
604 E. College Ave. | North Manchester, IN 46962 | 888-257-2586
plannedgiving.manchester.edu | arkreps@manchester.edu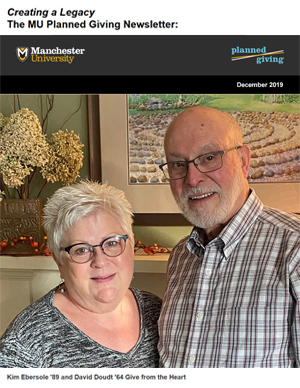 December 2019 - Click to download PDF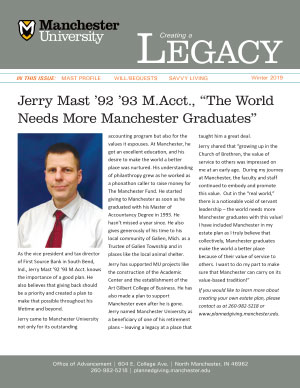 Winter 2019 - Click to download PDF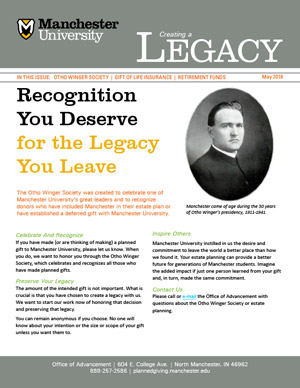 May 2018 - Click to download PDF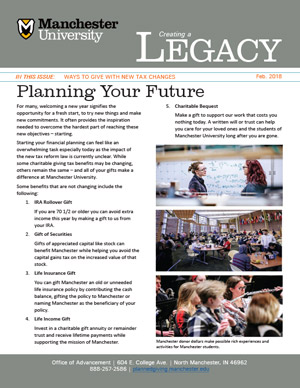 February 2018 - Click to download PDF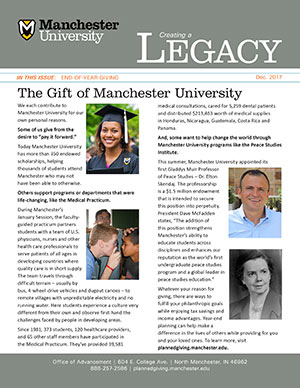 December 2017 - Click to download PDF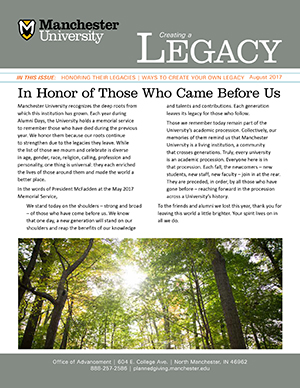 August 2017 - Click to download PDF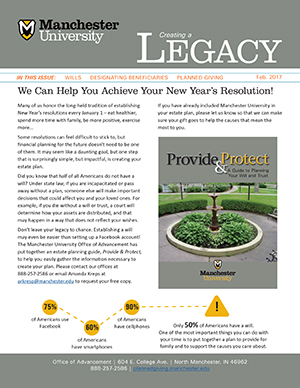 February 2017 - Click to download PDF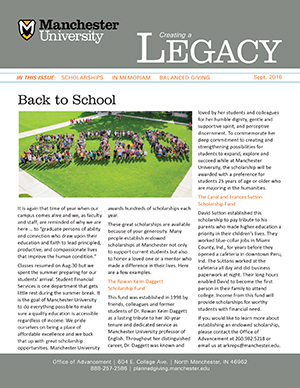 September 2016 - Click to download PDF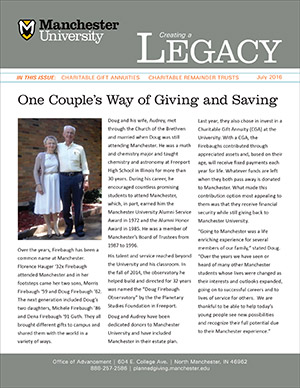 July 2016 - Click to download PDF