Best things in life started at MU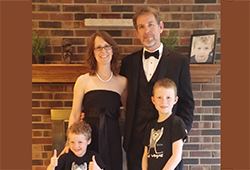 Best things in life started at MU
David Richmond '94 and Kristin Horwath '94 Richmond met as Manchester sophomores in 1991. Kristin was a cheerleader and on track to graduate as the class valedictorian. "She was," says David, "way out of my league." Nevertheless, David and Kristin fell in love and after graduation married in Petersime Chapel on the campus that meant so much to them.
The Richmonds moved first to Chicago and eventually to the suburbs where they are raising their children — Nate, 10, and Sean, 5. Kristin works in human resources at Elgin Community College while David is a professor of history at Harper College. Looking back, they agree, the best things in their life started at Manchester University.
Both Richmonds believe it's their responsibility to support Manchester, because it had such a significant impact on their lives. "What better way to express our gratitude to a place that gave us such a great beginning," they say, "than to contribute to future generations of Manchester graduates who will improve the human condition."
David and Kristin don't have a lot of discretionary income to give to charity right now. But they do have a plan for supporting Manchester in the future by naming the University as a beneficiary of their estate plan. A percentage of their estate will help fund student scholarships and Manchester University, allowing David and Kristin to help future MU students have the same amazing experience.
To learn more about
planned giving
and what
avenues of giving
are best for you and your family please
contact us
.