Edgerton bequest honors Manchester's exceptional teaching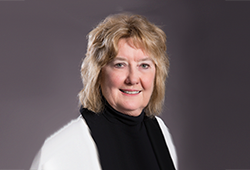 Sara Edgerton '70 makes plans for future generations to experience the same type of high-quality education she received at Manchester University.
Education has long been of great importance to Sara and her family. She feels that her life was enriched in instrumental ways through the exceptional professors who taught her well during her days on campus. Through her broad experiences and the way in which her professors challenged her to expand her way of thinking, Sara was propelled to success in her career. She is now co-founder and CEO of Community Cancer Care, based in Indianapolis.
"I am happy to be a current donor to Manchester and I am even more grateful to be able to plan my gifts for the future. For me, my planned gift can give gratitude for my good education and can pay forward to other generations of students, faculty and staff," states Edgerton. Her generous bequest is an investment in the educators of Manchester and will produce dividends in the lives of students for generations to come.
Sara is a firm believer in Manchester's mission to graduate "students of ability and conviction who draw upon their education and faith to lead principled, productive and compassionate lives that improve the human condition." She states, "The world needs helpful and hopeful people - both in large and small ways."
There are many ways in which Sara honors her Manchester education and strives to give back to the university she loves. She continues to stay active with her alma mater including serving on the Board of Trustees.
Sara provides these additional words of encouragement:
"Since I have no children, I can't think of a better way to leave a legacy that will provide real meaning. I doubt the world would ever know my name, but my planned gift to Manchester can give me confidence that something special could happen with this gift. I know that my gift will be administered as I have asked and planned gifts help our school plan for the future.
"Won't you join me in paying life blessings forward?"
To learn more about
planned giving
and what
avenues of giving
are best for you and your family please
contact us
.