Chris Craig '82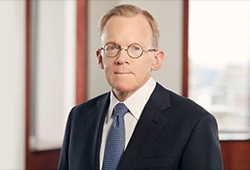 Chris Craig '82 has lived in New Jersey for decades but a part of his heart remains here in northern Indiana. As a child, Chris moved to Huntington, IN with his parents and two younger siblings when his father took a position as pastor of the Presbyterian Church there. After Chris started at Manchester, his father took a job as the executive director at Peabody until retirement in 1993. Chris now owns the family cottage on Lake Gage where he likes to spend his summers.
After earning his undergraduate degree in accounting, Chris spent the first 17 years of his career at Price Waterhouse. Today he is the finance director for the law firm Cravath Swaine & Moore with offices in New York City and London, England.
Chris says he chose Manchester because of its highly rated accounting program and his desire for the small school experience. He believes that "the liberal arts and business courses I took at Manchester prepared me well for my career by teaching responsibility, the ability to work and think independently, the value of teamwork and the importance of respecting different views and opinions."
These experiences had a significant impact on Chris's life and career path. As a result, he knew early on that he wanted to help others have the same opportunities he had. Not long after graduating Chris made his first gifts to Manchester and he hasn't stopped since. The gifts started small and Manchester is now a beneficiary in his estate plan. The gifts also range from the Manchester Fund to an endowed scholarship to building projects.
Chris says, "I was excited to see how Manchester was growing as an institution and while keeping the core of Liberal Arts, which is so important, begin to branch out into the health sciences. I also think that small universities such as Manchester have an important role to play in their communities."
Naming Manchester University in your estate plan is one of the easiest ways to ensure future generations of Manchester graduates. In Chris's case, an estate gift is allowing him to build on the outright contributions he is making today. Others choose to give through their estate in order to make a larger contribution (or their only financial contribution) than their discretionary funds currently allow. Regardless of the reason, an estate gift can change the lives of thousands of future Manchester students.