Jerry Mast '92 '93 M.Acct., "The World Needs More Manchester Graduates"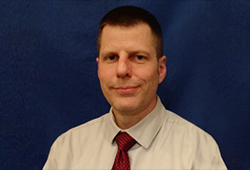 As the vice president and tax director of First Source Bank in South Bend, Ind., Jerry Mast '92 '93 M.Acct. knows the importance of a good plan. He also believes that giving back should be a priority and created a plan to make that possible throughout his lifetime and beyond.
Jerry came to Manchester University not only for its outstanding accounting program but also for the values it espouses. At Manchester, he got an excellent education, and his desire to make the world a better place was nurtured. His understanding of philanthropy grew as he worked as a phonathon caller to raise money for The Manchester Fund. He started giving to Manchester as soon as he graduated with his Master of Accountancy Degree in 1993. He hasn't missed a year since. He also gives generously of his time to his local community of Galien, Mich. as a Trustee of Galien Township and in places like the local animal shelter.
Jerry has supported MU projects like the construction of the Academic Center and the establishment of the Art Gilbert College of Business. He has also made a plan to support Manchester even after he is gone. Jerry named Manchester University as a beneficiary of one of his retirement plans - leaving a legacy at a place that taught him a great deal.
Jerry shared that "growing up in the Church of Brethren, the value of service to others was impressed on me at an early age. During my journey at Manchester, the faculty and staff continued to embody and promote this value. Out in the "real world," there is a noticeable void of servant leadership - the world needs more Manchester graduates with this value! I have included Manchester in my estate plan as I truly believe that collectively, Manchester graduates make the world a better place because of their value of service to others. I want to do my part to make sure that Manchester can carry on its value-based tradition!"
If you would like to learn more about creating your own estate plan, please contact us at 260-982-5218 or plannedgiving.manchester.edu.